BSC Management provides comprehensive solutions for conferences and trade shows of any size. We are a turn-key operation. We also provide targeted services. To read about our conference and meeting planning services and philosophy, use the menu above: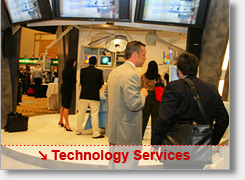 Registration
Program planning
Event planning
Hotel and vendor negotiations
Scientific/technical exhibits coordination.
Marketing
Faculty and presenter communications
Fundraising
It is the responsibility of your meeting planner to understand and carry out your goals and objectives. Although you may elect not to, including your meeting planner in your strategic planning sessions allows your organization to benefit from our vast experience and expertise in planning and operating a variety of professional, educational, or non-profit event for groups of any size.
BSC's track record for inventive and successful fundraising is well known in the field.
Conference & Meeting Planning Philosophy
Meeting planning is not just an exercise in organization and details, it is also a test to see if your planner possesses sufficient imagination and creativity to make a thousand disparate details come together and emerge as a successful event.
BSC Runs Conferences With An Eye Towards Total Excellence
Meetings and conferences are like puzzles. The picture becomes apparent when all the pieces are correctly put together. Your delegates come to your event for a variety of reasons and it is BSC's responsibility to assist you in fulfilling this wide range of attendee needs. Your delegates may attend to:
Network
Learn
Socialize
Buy
Sell
Fulfill continuing education requirements
BSC provides the tools to address each of the above and more. No detail is too small to escape our notice. For example, our philosophy is that if the registration experience is positive, the participant starts his or her experience with your conference on the right foot. We strive to make every attendee's experience as positive as possible in as many ways as possible. No one and nothing is perfect, but we aim to eradicate the imperfections before your delegates know about them.
Conference & Meeting Planning Services
Standard Conference & Meeting Planning Services
Site selection, including initial research and site visits
Negotiate contracts with hotels, conference centers, and other venues to be used during the event
Organize and oversee presenter and participant communications
Create and oversee social events, tours, hospitality services, and more
Plan appropriate food and beverage services for all aspects of the conference
Negotiate contracts with service providers, including audio-visual coordinators, decorators, transportation, and security
Design advance and final programs, syllabi, handouts, and proceedings
Perform any or all aspects of advance and on-site registration
Manage exhibit process, including sales, booth management, and on-site coordination
Design and implement marketing materials and plans
Organize and oversee award presentations
Design and manage spectacular Opening Ceremonies
Expert on-site administration of conference
Impeccable record keeping
Additional Services Available For Scientific/Medical Meetings
Manage any or all tasks related to abstract collection and review
Prepare abstracts for journal publication
Mobile app and web site development
CME compliance
Plan and execute hands-on learning labs
We Pay Attention to Detail
Even if you have never planned a conference before, you can guess that there will be a ton of details. If you have planned your own meeting, you know that there are a ton of details. Imagine the power of having an entire team of expert, nit-picking, worry-warts paying attention to even the most trivial aspects of your conference. We are neurotic so you don't have to be.
BSC is incredibly detail oriented. We do not rely on our past accomplishments nor do we run every meeting from the same checklist. We continue to learn to do our job better and we believe we have learned something from every single meeting we have run.
When you have attended a conference, did you ever wonder…
When the signs directing you to lunch were set out?
Where those vegetarian meals came from?
Why there is coffee in the right place at the right time?
If it's an accident that the color scheme and design in the exhibit hall matches the program cover?
How the shuttle buses show up exactly at the right time on 11 different routes?
That the evaluation drop-boxes magically appear just where you need them?
Stop wondering. BSC has thought of all those details and 10,000 more.
Continuing Medical Education Courses and Events
BSC Management provides comprehensive solutions for conferences and trade shows of any size. We are a TURN-KEY operation. We also provide targeted services. To read about our conference and meeting planning services and philosophy, use the menu above
Seminars and Symposia
Postgraduate Courses
Major Scientific Sessions
CD-ROM's
Web Sites
Videotapes
Video/Teleconferencing
Hands-On Animate Labs
Creative Interactive Programs
ACCME Compliance
Ensuring ACCME compliance requires a high degree of teamwork and communication between client and planner. BSC Management's professional team understands the responsibility that rests upon our shoulders to meet and exceed ACCME principles. We facilitate planning processes that follow CME best practices recommendations. At the end of your event, you will have the proper documentation to demonstrate compliance.
Needs Assessment
The foundation for a CME program is the establishment of documented need. BSC Management can assist you in your needs assessment, whether this involves a comprehensive survey of potential participants, a literature search of relevant journal articles, or more individualized services that address your group's history and goals.
Evaluation
With recent changes to the ACCME requirements, the evaluation of a CME event must go beyond the simple "Did you like this course" questions. The CME staff at BSC Management are skilled at obtaining meaningful evaluation data and at translating this information into recommendations for future events.
Corporate Support
Fund-raising for a CME event requires a delicate balance which recognizes the financial needs of the organization while adhering to the strict guidelines of the ACCME. Our staff has successfully balanced those two needs without a hitch. BSC Management develops and maintains ties with targeted funding sources, while assuring that the ACCME's "Standards for Commercial Support" are met.
On-Site Management
Once the planning is done, it is BSC Management's job to make sure your program runs smoothly. Our staff manages your event's logistical details through use of an experience-based on-site CME checklist. Not only does the checklist remind key players of their responsibilities, it also becomes part of the program file as additional documentation that the ACCME guidelines were followed.
On-site Operations
The planning of your conference has been seamless. Your contracts were tightly negotiated; the faculty are on their way; all of the food has been ordered; the social venues are on stand-by; the signs are scheduled to go up; and your delegates have been registered. Now the hard part begins: on-site management and operations:
BSC staff arrive well in advance to oversee the move-in and set up everything that will be required to make your meeting a success
Boxes of programs and supplies are cataloged and checked in
Freight that has been delayed is tracked
A communication network is prepared and deployed to everyone who plays a role in bringing off your event
Pre-conference meetings are held with hotels, convention centers, security, caterers, exhibit decorators, the audio visual company, and the transportation providers to ensure that everyone has the same information and approach to the event.
Registration and security staff are trained.
Electronic connections are checked, and checked again.
Trade show freight is rolled in.
Aisles signs are hung.
Pipe and drape are checked out.
Furniture is set up.
For BSC, every meeting is personal. Every meeting is a challenge met and surpassed. At every meeting it is our job to get it right. And we do.
Budgeting & Finances
Not only do you want your conference, meeting, or event to be a success in the eyes of your attendees, you need it to succeed financially too. Whether it is an annual meeting whose income supports your year-round organizational programs or a company sales meeting, everyone requires sound financial planning, implementation, and reporting.
Usually, one account manager is assigned to oversee your event's budget. The account manager will work in coordination with the accounting department to ensure your expenses and income are tracked accurately. Easy-to-understand reports are provided to you on a regular basis.
From the most modest meeting to the most lavish, BSC understands how to make your budget work realistically. We know that you want want value for your dollar (or euro), a manager that stays within the budget, and the certainty that the maximum amount of income that can be collected, will be.
BSC's experts bring sanity, organization, and meticulousness to your meeting finances.
Technical and Educational Resources
Successful conference and meeting planning cannot be accomplished with attitude alone. A wide range of skills and resources are required to allow your event to run in the smoothest and most efficient manner possible. BSC has all of the tools to run a dynamic event, including:
Online Abstract Submission and Review
BSC is a pioneer in the creation of web sites devoted to collecting and reviewing scientific abstracts. In addition to creating a custom program for your organization needs, we also have a full-featured, affordable, turn-key solution that can meet the needs and budget for meetings of any size. BSC stands behind our software solutions, providing timely and expert support whenever it is needed.
Online Advance Registration
BSC's technology specialists have created dozens of custom online registration systems that run the gamut from the simple to the complex. We can quickly and easily bring your registration process into the 21st century with advanced data validation and branching features that allows your attendees to quickly register and receive confirmation while also saving valuable staff time.
Hands-On Learning Labs
Teaching professionals and sales representatives "how to do it" is both an art and a science. BSC has assembled and presented dozens of labs ranging in size from 20 to more than 400.
Inanimate model labs
Animate labs
Cadaver labs
Digital/computer courses
Virtual reality learning
Telemedicine courses
CME (Continuing Medical Education) Administration
BSC Management staff members have worked within the rules and requirements of the Continuing Medical Education field for over 20 years. Our staff can help your organization with the following:
Initial self-study process and application to the Accreditation Council for Continuing Medical Education (ACCME).
Re-application and self-study for those organizations already accredited by the ACCME.
Administer CME activities, including appropriate documentation that follows the ACCME Essentials and Standards.
Advise your organization regarding the adherence to PhRMA and AdvaMed codes as they relate to the activity.
Assist the organization with compliance in the updated ACCME Standards for Commercial Support, including faculty disclosures and review of potential conflicts of interest.
Consult on the design and implementation of needs assessment and evaluation of your members' educational needs.
Conference & Meeting Planning