Event Planning for Conference & Meeting
BSC Management provides comprehensive solutions for event conferences and trade shows of any size. Read about our event conferences and meeting planning services and philosophy.
What is a Conference/Meeting Planner?
A meeting or event conferences planner is a professional person or company that plans, negotiates and implements event conferences for organizations, companies, or independent groups. Meeting planners provide the full range of event and conference services or targeted services including but not limited to:
registration
event planning
hotel negotiations
scientific/technical exhibits coordination.
It is the responsibility of your meeting planner to understand and carry out your goals and objectives. Although you may elect not to, including your meeting planner in your strategic planning sessions allows your organization to benefit from our vast experience and expertise in planning and operating a variety of professional, educational, or non-profit event for groups of any size.
Event Planning With Imagination
Regardless of your budget, your event does not have to look like every other event. It can have flair and imagination.
Just a few of the events BSC has created:
Formal dinner for 50 set under the stars on a black velvet carpet in the desert.
A scavenger hunt for 1,000 at the Disney Epcot Center
A moonlight river rafting trip and barbeque for 300
A beach party (including crab races) for 1,300
Giving 1,200 international attendees a taste of Philadelphia at the Reading Terminal Market
Sheep-shearing exhibition and dinner at an Australian sheep farm for 150.
A reception overlooking the Mediterranean at a yacht club in Genoa, Italy
A private evening at Universal Studios for 1,500
An evening train trip through the giant redwoods followed by a barbeque for 250
A ferry trip and salmon bake on a small island off Seattle for 300
Game night for 1,000 in Denver
Private indoor rodeo in San Antonio
An outdoor Mexican fiesta for 1,000
Elegant, casual, and family-friendly events in diverse locations, including:

The Corcoran Gallery
Boeing Air Museum in Seattle
Benjamin Franklin Science Museum in Philadelphia
The Pepsi Museum in Atlanta
City Museum in St. Louis
The Dred Scott Case Court House in St. Louis
Universal Studios Hollywood
Minute Maid Park in Houston
Torcello Island in Venice, Italy
Production and Entertainment
Selecting the right venue for your event is only half the battle. BSC knows that your special event also requires competent, professional production and right kind of entertainment and ambience to truly make it memorable. We have gone to great lengths to ensure that events have the right feel. Can you imagine yourself…
Listening to 26 band and orchestra CD's to find the right band for a group of accountants that range in age from 26 to 75?
Figuring out where to rent a Big Bird costume because your CEO thinks it will be a lark to come dressed in yellow feathers?
Finding an authentic hula dancer…in Nebraska!?
Wrangling kangaroos?
Getting up in front the of audience and dancing to get people out of their chairs and onto the dance floor?
Having to build a stage for the band that can also support the audience should they decide to line dance with the band?
Cueing amateur attendee karaoke singers so that everyone gets a chance to perform?
BSC does this for your event, and more.
On-site Operations
It's YOUR event. Relax and enjoy it. We take care of….
the details
last minute problems and the solutions
more details
more last minute problems and the solutions
worrying
No event is without last minute changes and challenges. That's typical. What's not typical is that you never have to handle them. BSC does it for you.
Event Planning Services
BSC's event planners can plan and implement your special event from the beginning until the last guest leaves, or we can act as your agent in specific areas. It is your event and we will function in whatever role you need. Some of the services we offer are:
Site selection, including initial research and site visits
Negotiate event tracts with service providers
Identify the right caterer and choose the perfect menu for the event and budget
Audition entertainment (in person or recorded)
Work with you to create and refine guest list
Design and send invitations, maintain RSVP lists
Help you to select a theme and work with florists and decorators to implement your chosen theme
Rent props and work with production company
Marketing (for fund raisers)
Awards presentations
On-site management
Prepare seating charts and place cards
Develop event operations documents
Track and event firm all providers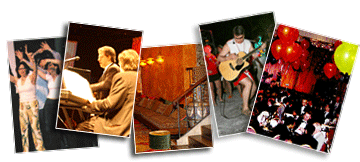 Event Planning for Conferences & Meetings