October 10, 2016
---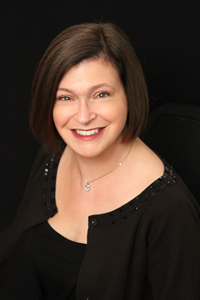 We've had a busy summer at BSC with several successful meetings and the addition of a new client, the  Association for Surgical Education.  We're also very proud to announce that Sallie Matthews has been spotlighted in Forbes for her role as Executive Director of SAGES and we congratulate BSC's Michelle Freeland on receiving Convene Magazine's Best In Show honor for Association Management! Read more about Sallie's thoughts on leadership and the future of nonprofits in her "Forbes Nonprofit Council Member Spotlight" here.
In their latest issue, Convene's Best In Show recognized some of the most innovative and acclaimed people in the meetings and conventions industry. Those honored included exemplary meeting professionals who usually operate out of the spotlight, behind the scenes, working in areas such as convention services, audiovisual, event technology, and catering. We are so thrilled about Michelle's honor and to have her on our team! Read the full Convene article, "It's All About Relationships" here.
Over Meeting'd? The Consent Agenda Can Help!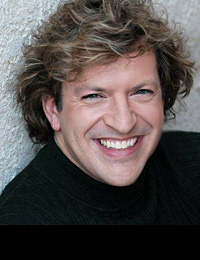 Meetings…vital, relevant, beastly, redundant, important, focused, too long… If you work in most any kind of organization, chances are you have meetings, and at one time or another you've probably used one of the terms above to describe the experience.
The process of putting a meeting together may be familiar to you. You construct the agenda and you send it out along with myriad attachments that you have painstakingly ordered and re-ordered for maximum efficiency. But once the meeting commences the group spends 15 minutes squabbling about the minutes from the last meeting, or someone insists that a particular project budget be explained down to a pen-count granularity.
Too much time spent on perfunctory information, too much time rehashing old business, so when it's time to talk about the important stuff that will actually move the organization forward, everyone is tired, unfocused and burnt out, with nary a caffeinated inspiration to be found. Easy to get frustrated, yes; but equally easy to remember that your attendees are busy people, and the key to any successful meeting is to ensure efficiency.
Enter the consent agenda. The consent agenda is a meeting structuring tool which helps to free up time for discussing what really matters. It's a one agenda item that encompasses everything that a board would, in a typical meeting, approve with a minimum of discuss
ion. See the sample below.
It's a single item that gets a single vote for approval. "I move to approve the consent agenda." Seconded and approved. DONE. No discussion. On to the important stuff.
As you work to incorporate a consent agenda into your meeting, review all topics that you hope to present and determine which ones will require discussion at the meeting,
 and which ones are just informational in nature – the informational topics are the pieces that can potentially be incorporated into the consent agenda, leaving more time for discussion of the more crucial matters.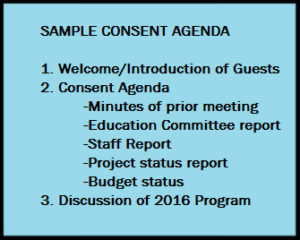 There are a few things to be aware of when using this structure:
It takes planning. Your attendees need to be aware and get on board with it before incorporating the consent agenda into their meeting structure – make it an agenda item for your next meeting to take them through the process.
Committee members will need to get the agendas and supporting materials earlier. Let your attendees know that they are expected to review the material prior to the meeting so that they can properly cast their vote. If they don't have time to review the consent agenda items, then the process won't work.
Committee members may have questions about consent agenda items that they need answered before they can vote. These can be handled in two ways:

A question needing simple clarification can be answered by the appropriate committee or staff member prior to the meeting. Clarification questions should not be discussed at the meeting – this is part of the training that the board/committee needs to receive. Look at the materials before we meet, so we can approve them quickly and get onto more constructive work.
If a board member feels that an item on the consent agenda needs further discussion, it can be pulled from the consent agenda during the meeting.
Board member: "I would like to request that the IT Committee's report be pulled from the consent agenda for further discussion."
Board chair: "All those in favor of approving the consent agenda, minus the IT Committee report, say 'aye'."
Done right, a consent agenda will shave significant time (and aggravation) off of a committee or board meeting, and help your committee focus on the important tasks.